Keep Your Home Comfortable
Top-Rated HVAC Company In Chicago
Hero Air Inc. provides heating and air conditioning services to residents in the Chicago area. We are a trusted company with years of experience, and we are dedicated to providing our customers with quality service.
Chicago's Most Trusted Heating

& Air Conditioning Company
Heating, ventilation, and air conditioning (HVAC) services are an essential part of any home or business. These services ensure that the environment inside is comfortable and safe for inhabitants. Hero Air Inc. is a leading provider of HVAC services in the Chicago area. We offer a wide range of services for both homes and businesses, including installation, repair, and maintenance.
We have a team of experienced and qualified technicians who are dedicated to providing quality service. We always put our customers first and work hard to ensure their satisfaction. We offer competitive rates and have a wide range of financing options available.
If you need HVAC services, contact us today! We would be happy to discuss your needs and provide you with a free quote.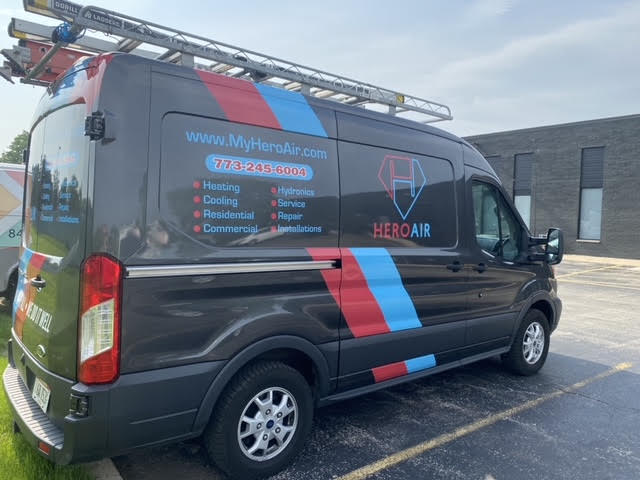 5-Star Rating - Read Our Reviews
Hero Air is a 5-star HVAC company with a reputation for quality work and excellent customer service. We have been rated on Google, Yelp, and Facebook as one of the best HVAC companies in the area, and our customers consistently recommend us to their friends and family. If you're looking for a reliable, affordable HVAC contractor, Hero Air is the business for you.
Hero Air Inc. provides a wide range of heating, ventilation, and air conditioning (HVAC) services to both residential and commercial customers in the Chicago area.
Frequently Asked Questions
We have included some frequently asked questions about HVAC systems below, and we are always happy to answer any other questions that you may have.
Indoor Air Quality Services in Chicago, IL
Chicago is notorious for its extreme weather, and that can take a toll on your HVAC system. In the winter, the cold air can cause your furnace to work overtime, and in the summer, the hot and humid weather can put strain on your AC unit. That's why it's so important to have a professional Chicago company like Hero Air to provide indoor air quality services. We can help you maintain optimal ventilation, cleanliness, and humidity levels in your home or office year-round. We also offer UV germicidal treatments and dehumidifiers to help keep your space clean and comfortable. And our team of certified professionals are always here to help you choose the best solutions for your specific needs. So don't wait any longer, call Hero Air today and breathe easy knowing your indoor air quality is in good hands.
Heating & AC Installation, Repair, and Maintenance
At Hero Air, we understand that your comfort is important to you and your family. That's why we offer a full range of heating and air conditioning services, from installation to repair to maintenance. We'll keep you cool in the hot summer months and warm in the cold winter months. And we're always here to help if you have any problems along the way. We know that hot and humid summers can be tough to endure, but with our help, you'll be able to relax in your home without worry. And when the freezing temperatures of winter set in, we'll make sure that your furnace or boiler is working properly so that you can stay warm and comfortable. Don't suffer through another hot or cold season – give us a call today and let us help you enjoy perfect indoor temperatures all year long.
Commercial HVAC Services in Chicago, IL
As a business owner, you understand the importance of maintaining a comfortable environment for your employees and customers. To do this, you need a reliable and affordable commercial HVAC company. Hero Air Inc. provides rooftop unit installation, repair, and maintenance services in Chicago, IL. We also offer regular inspections to ensure that your system is running smoothly and identify any potential problems before they cause downtime. Our team of experienced technicians will work with you to find the best solution for your needs and budget. Contact us today to learn more about our commercial HVAC services.
Vladimir was great! The reviews match what he delivers. Installed a brand new system at my parents house which runs perfectly and then asked him to come over to my condo to check out the AC after it started making a noise. He checked it and gave me great advice to keep it running a little longer. A+
Burt Jurczyk
In the middle of a very bitter cold spell, Vlad fit me into his schedule to come for an estimate. Although installing a new radiator was not an urgent matter, in a few days that radiator was in place and perking along! I'm very happy with the service I received. I would definitely call on Vlad again!
ka me
Vladi is the definition of a consummate professional. He worked for hours at my place trying to solve multiple issues with the replacement circuit board that was sent for my furnace. Went above and beyond at every turn. He's very responsive and communicative. Highly recommend using Hero Air for any HVAC issues you may have.
Ethan Bulak
Choose us because we're the best HVAC contractor in Chicago. We're certified and insured, family-owned and operated, and we have years of experience.
Get in Touch to Schedule Service
If you're in need of HVAC services, Hero Air is there for you. We have the best technicians in the area, and we'll send one over to help you out as soon as possible. Contact us today to get started.